75 years of PALLADIUM
You have to have them: PALLADIUM is relaunching three cult models for its 75th birthday
On the occasion of its 75th birthday, the traditional French company PALLADIUM is giving us plenty of gifts: as a tribute to the company's history, three cult models will be relaunched in 2022.
How far would you go to discover the world? Leaving your own footprint on this planet? Getting more out of your life? Whatever you want to experience: Our time on this earth is too short for missed opportunities! The good thing: sometimes it doesn't even take that much to change something. All you need is some courage – and since we're on PALLADIUM's 75th anniversary: ​​a good pair of shoes can't hurt either to make big strides towards your goal! Since the company was founded in 1947, the French label has stood for a spirit of discovery, a love of nature and a thirst for adventure, but also for sophisticated shoe craftsmanship and special design. It's no coincidence that the motto of the current campaign is #daretodiscover – basically that has always been PALLADIUM's guiding principle.
From impassable terrain to the sports field: A homage to diversity
Founded in 1947, PALLADIUM initially made shoes for the French Foreign Legion. The focus was on functionality, comfort and performance – utility boots that can withstand a lot and can be used in a variety of ways. However, the design, which was characterized by robust canvas, was so well received that PALLADIUM quickly became THE sports shoe brand in France. Whether for training or leisure: Suddenly the styles were everywhere. No wonder that numerous celebrities are still fans of the brand, including volcano researcher Haroun Tazieff, basketball icon Allain Gilles and musician Pharell Williams. As diverse as the people who love PALLADIUM are, so are the possible uses of the boots and sneakers. Robust, weatherproof and stylish at the same time, they work just as well at university as at festivals or hiking. Depending on the occasion, everyone will find the right shoe here – and this year, on the occasion of the 75th anniversary, we can look forward to several limited collections.
From old to new: The Capsule Collection from PALLADIUM
The world is changing and we look ahead – but sometimes it's nice to look back. With this in mind, PALLADIUM has rummaged through its archive and created a new edition of the most beautiful models. In order to connect the past with the present, a total of three lines were created:
PALLA LOUVEL: Originally developed in 1950 as a volleyball and basketball shoe, this model scores with excellent grip and light, yet reliable support around the ankles. Influenced by the basketball star Allain Gilles, the PALLA LOUVEL was one of the most popular sports shoes in France between 1950 and 1980. Now the canvas high-top with a robust rubber outsole and iconic logo patch is coming back in multiple colors.
PALLABROUSSE: Based on the founding year, the anniversary edition of the PALLABROUSSE is imitated to 1947 pieces. Appropriate numbering makes each shoe unique. Other special features of the new edition: A premium canvas finish, the "75 YEARS OF EXOPLORATION" lettering inspired by military insignia and a blue, white and red stripe on the heel.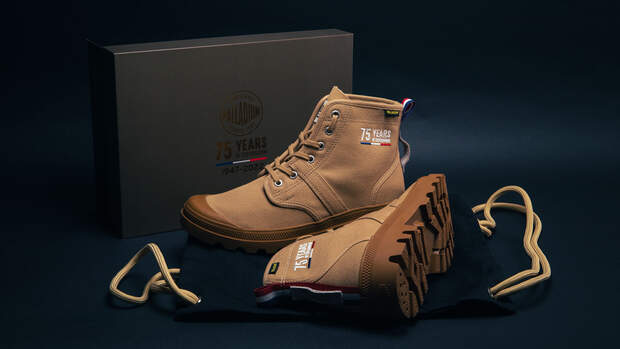 PALLADIUM
PAMPA ECO-VERSARY: With the PAMPA model, PALLADIUM developed a particularly sustainable shoe back in 1990, which was also adorned with an earth print. The new edition made of organic canvas goes one step further: upcycling materials and environmentally friendly color pigments made from almond shells, speckled soles with wood pellets, biodegradable shoelace tips and shoelaces made from recycled polyester combine style and sustainability.