How stress, depression and anxiety increase the risk of a heart attack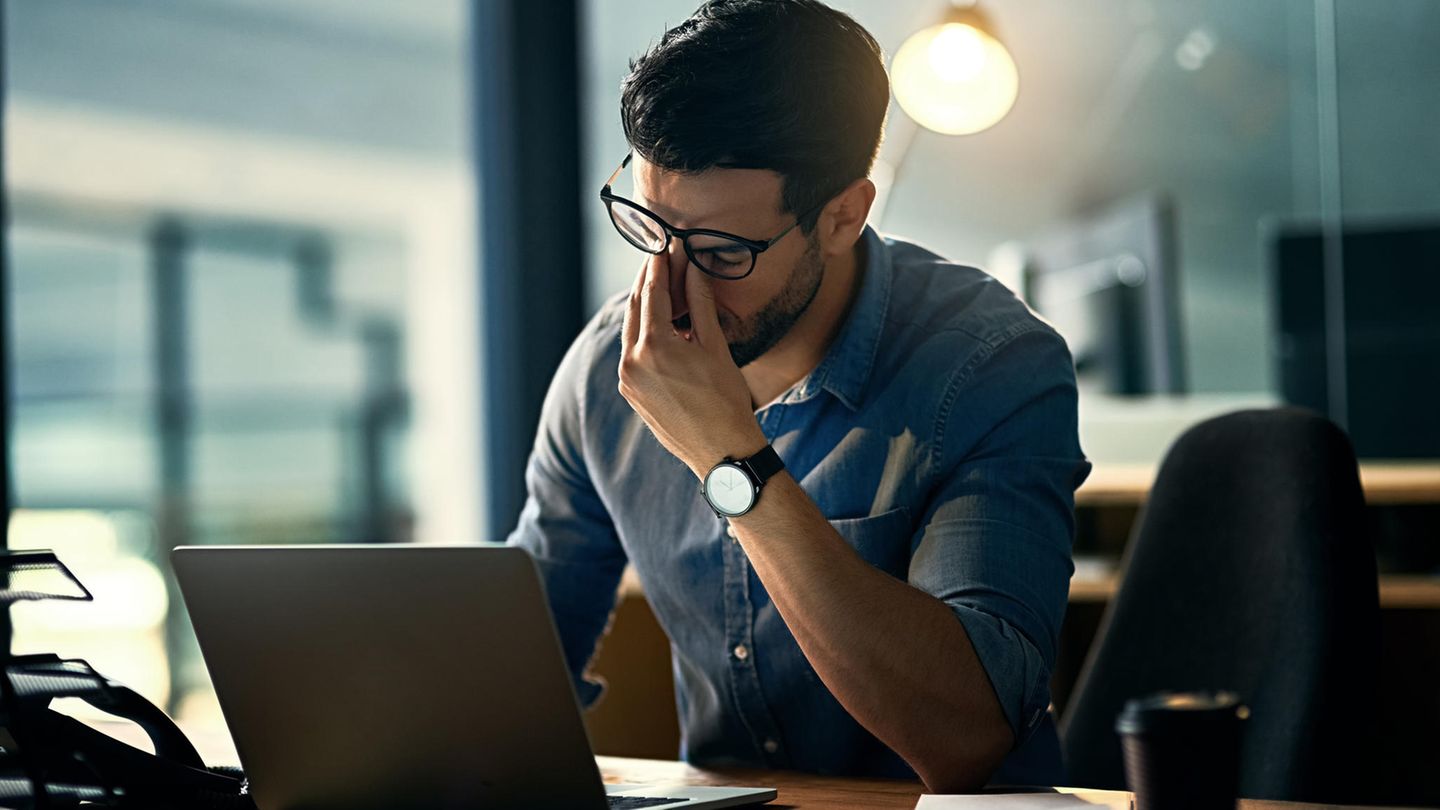 DAK report
How stress, depression and anxiety increase the risk of a heart attack
Every year around 340,000 people nationwide die from cardiovascular disease. A report by the DAK shows that the role of stress and mental illness as a risk for heart attacks is underestimated.
Almost one fifth of the working population in Germany is affected by a psychological risk factor for cardiovascular diseases. This is the result of the current DAK health report. Extrapolated to the working population, 8.6 million people have an increased risk of heart attack due to a mental illness or work-related stress. The study also shows that physical risk factors such as smoking, high blood pressure or obesity are often associated with psychological risks.
"For years, absenteeism among employees due to mental illness has been increasing. In view of these highs, which we are seeing especially during the pandemic, we have to be vigilant," says Andreas Storm, CEO of the health insurance company DAK. "Depression, anxiety and negative stress are already a great burden in themselves. But they also literally go to the heart!" The report shows a 41 percent increase in absenteeism due to mental illness from 2011 to 2021. After musculoskeletal disorders, mental illnesses are the second most common reason employees are absent from work.
For the health report, the Forsa Institute surveyed around 7,100 employed women and men aged 18 to 65 on behalf of the DAK. And the IGES Institute analyzed the data of more than two million employed DAK insured persons.
Mental risk factors often do not come alone
Almost a fifth of those surveyed live with a psychological risk of cardiovascular disease. At 22 percent, slightly more women than men (16 percent) report problems in this regard. However, the psychological risk factors often come together with other physical risk factors. These include smoking, high blood pressure, obesity, elevated cholesterol levels and obesity. One reason: "Behaviour affects the psyche and vice versa," says Professor Christoph Herrmann-Lingen, Director of the Clinic for Psychosomatic Medicine and Psychotherapy at the University of Göttingen. People with mental illness are often unable to behave in a healthy manner. For example, it is not possible for a depressed person to exercise regularly because of their illness, the expert explains.
Almost a third of respondents who have a mental health risk factor also say they are overweight. And significantly more than a quarter count themselves among the smokers. For comparison: Among those surveyed without a psychological risk, the proportion of people who are very overweight is significantly lower at just under 23 percent and only one fifth of them smoke.
The report also shows that workers with depression are more likely to seek medical treatment for coronary heart disease, in which the coronary arteries slowly close and an acute myocardial infarction can occur even in middle age. "On the one hand, people with mental illness are more likely to develop heart problems. On the other hand, we see many cardiovascular patients subsequently developing a mental illness," explains Christoph Herrmann-Lingen. In the outpatient care of people with depression, the cardiovascular risk should always be taken into account and after a heart attack, for example, regular attention should be paid to mental illnesses in rehabilitation, says the expert.
Work stress as a strain on the heart
However, the risk of cardiovascular disease is not only increased for people with mental illnesses. Work stress is also a factor. Nine percent of those surveyed suffer from heart-threatening work stress. According to the study, work stress affects people who achieve a lot or at least see it that way and at the same time experience little appreciation. At almost eleven percent, work stress is particularly high among people with an intermediate vocational qualification such as vocational training. It is lowest for academics: inside at around five percent.
Cardiovascular diseases cause an average of 60 days of absence per 100 insured persons per year – more for men and fewer for women. The number of days absent increases significantly with age. 45- to 49-year-old men have 67 days for every 100 insured persons, while their colleagues ten years their senior have 184 days – almost three times as many. DAK CEO Andreas Storm sees employers as having a duty to keep an eye on and protect stress, strain and the mental and physical health of their employees. Christoph Herrmann-Lingen explains that prevention should start very early on, because the course is set for cardiovascular diseases as well as mental illnesses in the early stages of life. Timely support for children in precarious circumstances, for example, could have a preventive effect.
According to the study, almost half (48 percent) of those in employment receive offers from their company in the field of workplace health promotion. Only 41 percent of those in employment with an increased risk of cardiovascular disease. Prevention is very important in cardiovascular diseases, emphasizes Storm. The health insurance companies also offer numerous courses to change one's own lifestyle. Those who smoke less, exercise more, eat healthier, relax more and have a healthier working life reduce the risk of cardiovascular disease. For those with statutory health insurance, an annual check-up every three years is free of charge from the age of 35. The medical check-up can identify possible risk factors at an early stage.