How to buy a good balance bike for your child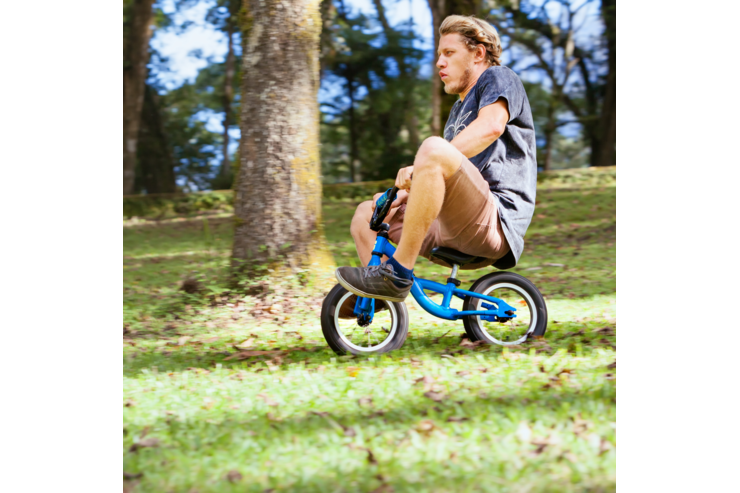 Balance bikes only have a positive effect on your child. Firstly, balance cycling is a lot of fun for the children and secondly, it also prepares the youngsters for their first real bike. A balance bike trains motor skills and the sense of balance and brings them to a level that guarantees a quick changeover. Convinced? Then we will show you what you need to look out for when buying a wheel:
When can I buy my child a balance bike?
"Even if balance bike manufacturers produce balance bikes for children from one and a half to two years old, we only recommend balance bikes from the age of two and a half to three years," says Andreas Kalbitz, Managing Director of the Federal Working Group (BAG) Mehr Sicherheit für Kinder eV, a non-profit association and national specialist network to prevent child accidents. It is only at this age that children usually have the necessary body control and stability to be able to use a balance bike safely. "Especially since younger children are often not yet able to correctly assess their own speed."
How do I teach my child to ride a balance bike?
You buy a balance bike, present it to your child and just let them do it. It's that simple. Pretty much every kid will probably try it. Some will get the hang of it quickly, others will take a little longer. That's fine. Even if the balance bike is left in the corner for a few weeks, your child will fall back on it and continue to use it. Because every child has their own learning speed and even if some of the playground superdaddies get on your nerves because Jonathan is already doing their tax returns, pressure is rather counterproductive here. "When it comes to balance cycling, it is important that the child only rides under the supervision of the parents so that they can intervene in an emergency," advises the expert. "The child should also ride with a bicycle helmet and sturdy shoes. The preparatory work that you do here will pay off when you get your first bike." And braking barefoot like Fred Flintstone is very painful in reality.
What should I look out for when buying a wheel?
A balance bike has a fairly simple structure, but it looks completely different when it comes to the needs of your child. So that you can prepare your child for success right away, you should pay attention to the following points:
Weight
Children are strong, but you shouldn't ask too much of them physically. Therefore you should pay attention to a wheel that is as light as possible. "A balance bike should weigh a maximum of four kilos. That's the only way the child can easily set up and push the balance bike. In addition, dad is happy about every gram less when the child is carrying it after a long day," says the expert Kalbitz.
brakes
For the experts, a brake only makes sense from the age of four. Because not only are young children's hands too small to operate the brakes, it is also a coordination effort. "That's why you should only let your child ride on level ground at first," recommends Kalbitz.
tires
There are two options here: plastic or pneumatic tires. Synthetic tires are lightweight and maintenance-free, making them perfect for younger riders. Their disadvantage is that their spring force is zero. Pneumatic tires are heavier and come with an insatiable appetite for air, but they are also cushioning. They are suitable for older children.
wheel diameter
Wheels can be between eight and twelve inches. In general, larger tires – like on a bicycle – roll better. For the fit size, however, the size of the wheels is rather irrelevant. It is important that the minimum saddle height is a few centimeters below the child's inseam length. This is the only way your child can reach the ground with their feet.
Steering limit
In the wheel world, this is a somewhat controversial point. Some manufacturers say that a barrel deflection limiter protects the child from carelessly knocking over the handlebars and falling. The others find the steering lock limit itself dangerous because it makes the handlebars inflexible when falling and can injure the child. Both are a bit exaggerated. Children quickly learn not to knock over the handlebars and a good impact limiter gives way when falling. We therefore recommend buying a wheel with a wide angle limiter or none at all.
running board
Small children like to have their feet close to the ground as this feels safer. That's why a running board only makes sense for more experienced children who can also be wheeled. The expert recommends balance bikes with the lowest possible steps to make it easier for children to get on and off. Wheels with running boards score points here.
processing
"When buying, you should make sure that the balance bike has no sharp edges, splinters or protruding screws that children can get caught on. To protect children's fingers, a balance bike must not have any crushing or pinch points. It's best to go in a specialist shop because you can check the wheels for such spots there and also get advice," advises expert Kalbitz.
Our wheel recommendations
With the large selection of wheels on the market, it can quickly become difficult to find the right one. That's why we, the editors, have put together a small selection here:
1. LR M by Puky
The smaller, lighter version of the LR from Puky, the test winner of the Stiftung Warentest (Issue 12/2018) – the LR M from Puky is a classic among the wheels. The wheel has a saddle height of 34 to 43 centimeters and weighs 3.5 kilograms. The bike impresses with good workmanship and a special banana saddle, which supports the running movement well and gives children a secure hold.
2. Sports by Bikestar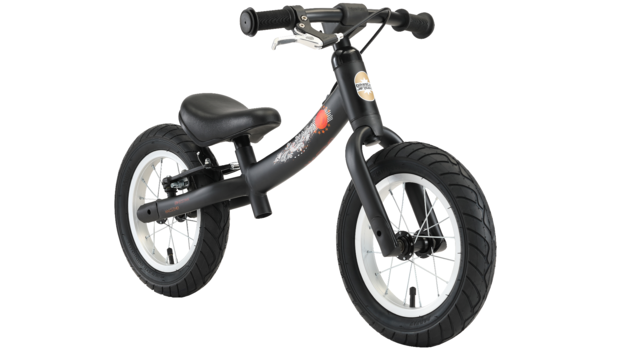 The 'Sports' from Bikestar is equipped with pneumatic tyres, a disc brake and a saddle size of 32 to 43 centimetres. This balance bike is a very good preparation for the first bike and good for strong and advanced balance cyclists. Because with 4.8 kilograms it is too heavy for smaller children.
3. Run Ride 100 by B'Twin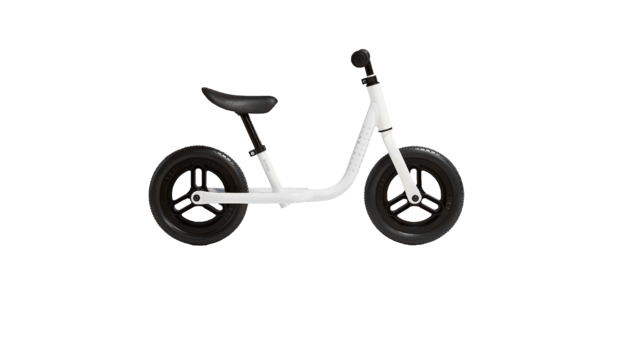 The B'Twin RunRide balance bike
The Run Ride 100 from B'twin took second place in the running bike test by Stiftung Warentest (Issue 12/2018) and also convinced us. At 3.1 kilograms, a saddle height of 33 to 41 centimeters and a lifetime guarantee, the B'twin balance bike is a safe choice.
4. 3in1 balance bike from leg&go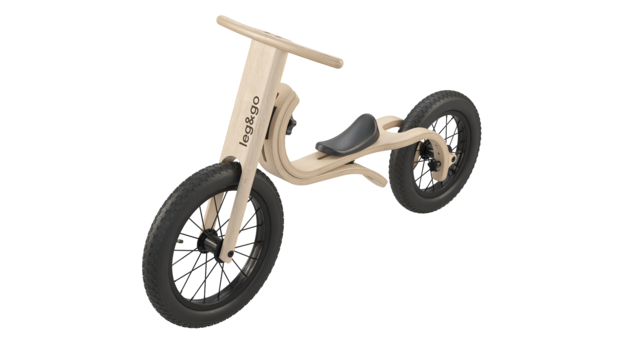 Wheels made of wood have the problem that they often lack flexible, stepless adjustment options for the saddle. The leg&go 3in1 balance bike does not have this problem. Thanks to a very well-regarded design, not only can the saddle be infinitely adjusted on this balance bike, it can also be converted into three different constellations, which makes it suitable for many children.
5. LR M Classic retro-green from Puky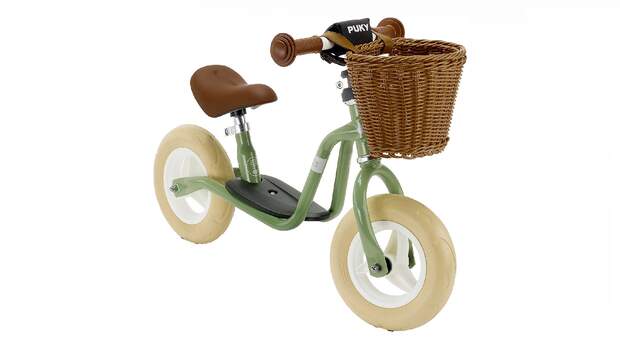 The Puky balance bike LR M Classic looks great with its retro design. As with other Puky balance bikes, the LR M also has the excellent, ergonomic banana saddle, so your child can learn perfectly how to keep their balance and slowly approach the "big" bike.
6. Balance Bike Trike 2 in 1 Turquoise Small Foot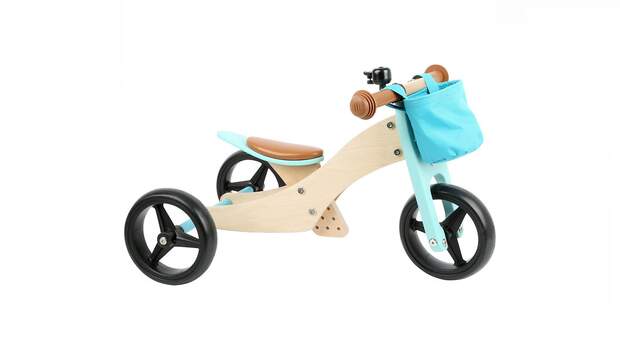 7. LR Light by Puky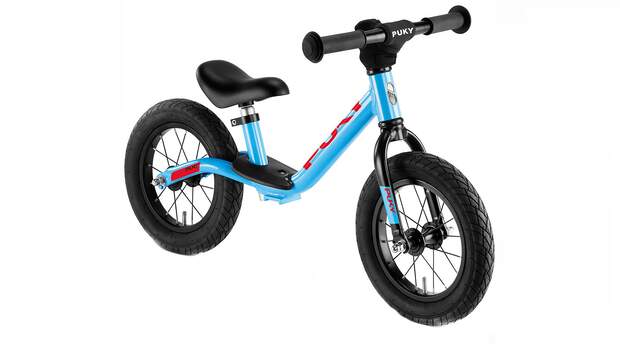 The Light is lighter than its predecessors and weighs just 3.6 kg and is also the test winner (2022). It is the only bike in the entire test that scored "good" in the emissions test.
A wheel is a really worthwhile purchase. The child no longer has to be carried as often, it does not feel left out when the siblings get on their bike and is even prepared for their own bike.